Discover more from Nomadic Notes Travel Newsletter
A weekly travel newsletter featuring the best travel reads and interesting travel news from around the web.
Travel Newsletter: 18 August 2023
[Jakarta, Indonesia] Travel Reads: Maui, walking Manhattan, Mauritania, Raja Ampat, and more...
I'm back in the Big Durian to write about transport and infrastructure for
. Blogging at Nomadic Notes will resume when I have finished this Indonesia trip.
I've been without wifi in my hotel this week as they removed the overhead cables in my street before connecting the new fiber-optic cable.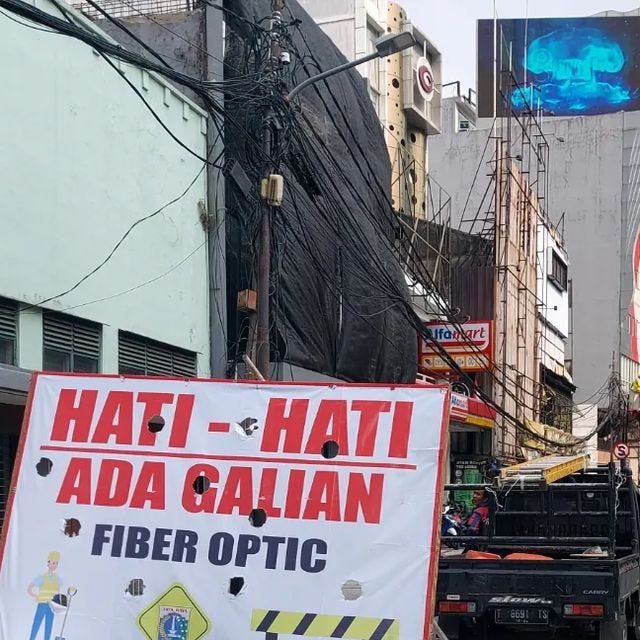 James Clark ✈️ on Instagram: "I arrived at my street in Jakarta to discover that they were cutting down the overhead wires and installing fibre optic cable. I thought I hope they installed the fibre optic first (insert Anakin Padme meme: "You installed the fibre optic first right?) No they didn't, so there is no wifi in my hotel. Sigh. Luckily there is a Starbucks opposite me and the wifi doesn't require a login. Turns out this branch is Indonesia's first Signing Store, where the staff are deaf/hard of hearing. You write your order down with your name, which are two things that often go wrong in a Starbucks order. I like the number board system as well. https://www.thejakartapost.com/front-row/2022/12/05/starbucks-indonesia-opens-first-signing-store.html"
Despite this symbolic dysfunction, I've still managed to round up this week's travel reads while wandering around the city and trying out the various urban railways. I've discovered new neighbourhoods thanks to a friend who lives here, and my 2 weeks here now seems barely enough time to cover what I want to see. On that note, I publish this and go out again.
[Many cats in Jakarta]
Travel reads
• What to know about Maui's wildfire recovery efforts and how travelers can help
• How one man walked 6,000 miles across America's largest metropolis
"William B. Helmreich explores the dynamic, sleepless multicultural tapestry of New York City."
• Is this the best dive resort in the world? (Archived link) By
from
"Nestled on Kri Island, in Indonesia's Raja Ampat archipelago of West Papua, is Sorido Bay Resort. It's a beautiful place, but wait until you get underwater."
• Coffee and travel by
• The Travel Lunatic: Tacoma Doesn't Stink! By
"Wherein I explore "Grit City," Brent's hometown in Washington State, a place where tourists never go — but maybe they should."
• Tea, tuk-tuks and homestays: How this 300 km walking trail is empowering the women of Sri Lanka
• I visited eight European countries without flying, and loved it
• Vietnam's popular sailing junks face extinction
"Traditional wooden vessels to be banned from famous Ha Long Bay due to accidents."
• The unlikely cuisine now starring on world's best restaurants lists
"Syrian dining spots are becoming top destinations in cities around the world."
• Portugal's hostels are world class. But, they say, a new law threatens their existence
• Texas could get a 205-mph bullet train zipping between Houston and Dallas
• Lego's new $200 Concorde is a fantastic homage to the supersonic passenger jet