Solidarity with Ukraine 🇺🇦
Another train line to Laos, Pondicherry reclaims its beach, Tbilisi's mysterious underground Soviet-era city, and more travel reads.
BANGKOK - I'm back in Bangkok and I must have clocked a full work week of doomscrolling about Putin's invasion of Ukraine. All I can do is share some links that can help, and make a contribution myself.
This resource page has verified ways to help: https://ukrainewar.carrd.co/
And more options here: https://linktr.ee/razomforukraine
The official Twitter account of Ukraine has also posted cryptocurrency accounts (verified by other official accounts as not hacked) where you can donate:
Latest posts at Nomadic Notes (and around the web)
My monthly update is out now: Where I'm At: March 2022 – Udon Thani
I spent the entire month in Thailand. This was the first time I've spent a calendar month in one country since leaving Vietnam in August 2021.
Thailand
The month began in Koh Lanta, which is where I ended up for an auspicious birthday. I've long since given up about worrying about societal norms regarding my lifestyle. Even so, I felt compelled to be somewhere in particular on my 50th birthday, and that was something that I had in the back of my mind leading up to this date. I had a place in mind where I wanted to be, but it didn't work out in these pandemic times.
As a long-term nomad, there is no single place where I could gather friends for a party. I have some great friends that are thinly spread out around the world, so a geographically specific gathering of friends would never work. I had recently read Dark Star Safari by Paul Theroux, and he wrote about turning 60 while on the road and the wish to not celebrate it. Koh Lanta turned out the be as good a place as any to see in my 50th.
I had visited Koh Lanta over 13 years ago, so it kind of felt like visiting a new place. I was aware though that I hadn't been anywhere new in Thailand for a while. I have a habit of ending up just staying in Bangkok when I am in Thailand. I did a count of islands I've visited recently, and the last new island I went to was Koh Kradan in 2019. Since then, I've been to Ko Chang, Ko Samet, Phuket, Phi Phi, and Koh Lanta. All of those were revisits, so it was time to bag some new Kohs. After Koh Lanta, I went to Koh Ngai and Koh Mook.
Koh Ngai is a small island with no vehicles on the island. In normal times there are only a few hotels, and now there are even fewer hotels to choose from. There is not much to do here, but I was just happy to have walked another beach on a new island.
From Koh Ngai, I went to Koh Mook. This island has a functioning village with motorbikes, and it has a completely different vibe to the Koh Ngai and Koh Kradan, which are basically islands set up for tourism. The pandemic has also taken a toll on the tourism economy of this island. I guess by the number of closed businesses that it used to have a lively traveller scene here.
After Koh Mook, I went back to the mainland at Trang, where I stayed before going back to Bangkok. I will have a report on all of the islands I've visited.
I timed my Thailand travels to be back in Bangkok near the end of my visa. I was waiting to see what was open to travel before deciding if I should stay. Malaysia had briefly teased the world with a reopening date, and Laos was also considering reopening. Malaysia and Laos remain closed, and I wanted to wait for more flights to resume to Australia, so I opted to extend my visa in Thailand.
The visa extension is still the same process since the last time I did this, except that the office has temporarily moved. After my visa was approved I made some plans for new travels in Thailand. To balance out my island-hopping adventures, I headed to the Northeast Region (Isaan) of Thailand. This month in Thailand I plan to visit places to report on transport and infrastructure for articles at Future Southeast Asia. There are some big transport plans happening in the Northeast, including the high-speed railway to Laos. My first stop was in Khon Kaen, where they are planning to build a light rail.
Another railway that is being planned is a line to Mukdahan on the Thai-Laos border. This would form a section of the East-West Economic Corridor Railway. From a travellers perspective, this would mean that you could get a train from Bangkok to Mukdahan, and then hop on a boat to cross the river to Savannakhet in Laos (or by train if it all gets built).
Nakhon Phanom is also on the Mekong River, and there have been proposals to extend the Mukdahan railway here as well. Nakhon Phanom has a small Vietnamese community, and it is where Ho Chi Minh lived in 1928. His home is now a small museum.
Udon Thani is one of the main cities of the Isaan region, and it has a train station and regular flights from around Thailand. I will post about places visited here and at Future Southeast Asia.
I also did an interview on Tales of the Orient by Simon Ostheimer. This article gives a background on how I started Nomadic Notes and Future Southeast Asia.
I was in Northeast Thailand (Isaan Region) this week where I followed the route of a future rail line. I posted information on Future Southeast Asia: Ban Phai – Nakhon Phanom Railway. This railway is now in the process of acquiring land, and if it gets built it will mean that you will be able to get a train from Bangkok to Savannakhet in Laos.
Assorted travel reads
• In India, a city takes its beach back from the sea
My first trip to India was to South India, and it is probably this reason that makes me most nostalgic for it. Another place I want to go back to.
• A paradise with too many palm trees
I read this article this morning and I must admit that it sounded appealing to be on a tropical island restoring a bird habitat and being disconnected from global events (and more suitable for me than the Scottish island from last week). And I shit you not, I then went outside and got shat on by a pigeon. Is it a sign? Am I lucky for a day? Or should I just not have walked under that tree where the birds congregate?
• Will Smith's travel show finds an everyday lesson in extreme adventures
• Photographer explores Tbilisi's mysterious underground Soviet-era city
• Lavish Roman mosaic is biggest found in London for 50 years
• The man who sits with the sky
"In Yellowknife, Canada, Joe Bailey has earned the nickname "Aurora Hunter" for his uncanny ability to find and follow one of nature's most spectacular phenomena: the Northern Lights."
• The famous Red Carpet Express train rides again
"It wasn't just a legend. Archaeologists are getting to the bottom of the city celebrated by Homer nearly 3,000 years ago."
• Calls to rethink geotagging of social media posts depicting Tasmania's sensitive wilderness
@nomadicnotes at Instagram
Follow me at @nomadicnotes for real-time updates.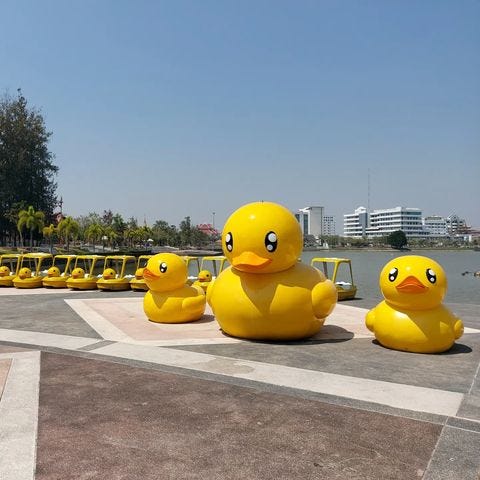 ---
The Nomadic Notes Travel Newsletter is a weekly newsletter of the best travel reads and interesting travel news from around the web, and random ramblings by the editor.
- James Clark