Discover more from Nomadic Notes Travel Newsletter
A weekly travel newsletter featuring the best travel reads and interesting travel news from around the web.
A list of every island in Thailand you can stay at
New newsletter: Southeast Asia Railways. Travel reads: Matera, Albania, a great Switzerland Tourism ad, and climbing Kinabalu in a suit.
Hello from Ho Chi Minh City! It's been a productive week of catching up with friends and getting work done. There is still only the 1-month visa here, but there is talk of the 3-month visa returning.
I went to a banh mi festival this week, which is my kind of festival. I used to go to rock festivals where you would pay $15 for a hot dog. I paid 15,000 VND (0.64 USD) for my first banh mi, so I knew it was going to be a good day. I will be back again on the weekend.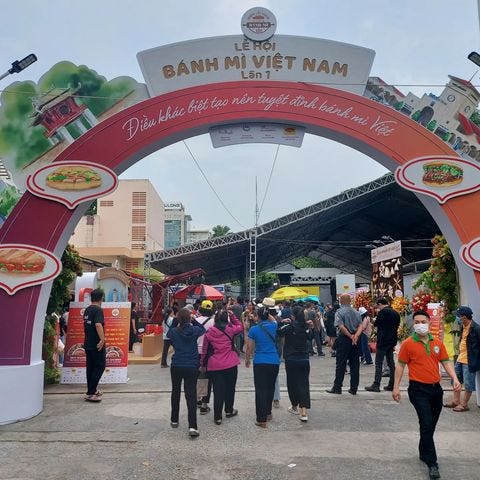 This week I published an epic list (yes, epic, and perhaps even the ultimate) of every island you can stay at in Thailand.
And as if I don't already have enough to do, I'm launching a new newsletter today.
New Newsletter: Southeast Asia Railways
This week I am launching another rail-themed newsletter:
.
I already have a Europe and Japan rail newsletter, so it makes sense to start one for a region I am most familiar with. The newsletter will be a monthly round-up of rail news in Southeast Asia. I already collect the information for
and from the
Southeast Asia Railways Group
that I run. Many links don't get posted here or on Future Southeast Asia, so it will be a different newsletter experience.
I have put together the first issue, and it is already filled with exciting rail news. The first issue will go out later today, so sign up now! (I will post the link next week if you miss it).
Latest posts at Nomadic Notes
Thailand islands guide: Every island where you can stay
When I was in Thailand in February, I changed my travel plans due to the pollution in the north. I wanted to go to an island but I didn't know where. I was going to go to Koh Lanta, which I had been to last year. A good option for sure, but I wanted to visit a new island. I wondered how many islands you can stay at, so I put together a Google Map to find out.
This is a basic list of islands without hyperbole. I found when searching for islands, all the articles were the same old Top 10 listicles. If you are looking for ideas beyond the ones you have heard of, then I hope this helps.
Travel reads
• Italy's impressive subterranean civilisation
• Unraveling Albania: A journey through the country's past and present
• The problem with celebrity travel shows? The celebrities.
"What used to be meaningfully informative programming, delivered by personable but only tangentially notable hosts, is gradually being swallowed up."
• It's business (suit) time: Japanese man climbs Mount Kinabalu in three-piece suit
• Nomad hotels? How "work from anywhere" is driving the rise of subscription living by
.
• Hostel announces 'BYOB' policy: Bring Your Own Bed, linens, and room key
via a travel satire site I stumbled upon, cookednomad.com.
• Eight books that will take you somewhere new
• Hiking the Tour du Mont Blanc: A beginner's guide
"Starting and finishing in the storied alpine town of Chamonix, France, the TMB circles Mont Blanc. This hundred-mile trail is one of the world's most stunning—and definitely one of its most entertaining."
• 5 beautiful beach houses in India that worship the sun, sand, and sea
• Ted Lasso fans can book a night in the Richmond watering hole from the hit Apple+ show
• 'World's longest' bus journey will take 56 days to cross Europe
🚆
Train travel
• Grand train tour of Switzerland: The ride of a lifetime
A Switzerland Tourism advertisement with Roger Federer and Trevor Noah is the crossover event of 2023 I didn't know I needed.
✈️ Air travel
• These are the most annoying people at airport security, according to the TSA
---
The Nomadic Notes Travel Newsletter is a weekly newsletter of the best travel reads and interesting travel news from around the web, and random ramblings by the editor.
- James Clark