Visiting an actual new island
A.I. and travel, the slowest train journey in India, Germany's unlimited €49-a-month rail pass, and the golden age of jet travel.
Hello from Ho Chi Minh City! I'm back from my island-hopping adventures this month, which finished up on the island of Penang.
The good thing about being a nomad is that eventually, you cross paths with other nomads. So it was that I crossed paths with
in Penang.
Thanks for reading Nomadic Notes Travel Newsletter! Subscribe for free to receive new posts and support my work.
I have a number of blogger friends who have since started a Substack account, but Brent and Michael are the first writers I've met via Substack first. It was good to talk shop and just hang out with two cool guys in general.
I mentioned earlier this month that I was visiting two new-to-me islands (Koh Larn and Koh Lipe). It turns out that I not only visited new-to-me islands, but I also visited an actual new island. Andaman Island is an artificial island under construction (if islands can be constructed?) off the north coast of Penang. I saw on Google Maps that there is a coffee shop on the island, so I paid a visit. There is a new city planned on this island, and three bigger islands are planned to the south of Penang.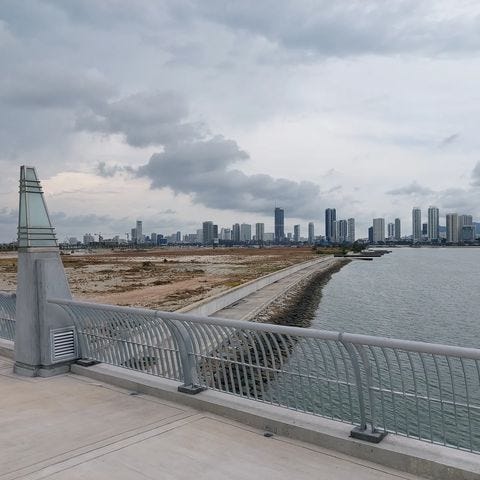 I'm back in Vietnam for a month, though I haven't worked out an itinerary yet.
Latest posts at Nomadic Notes
Don Muang Airport Train: Getting the train from DMK to Central Bangkok
It took me three trains using three separate tickets to get from central Bangkok to Don Muang Airport. This is a guide for this overly complicated system.
Travel reads
• Following a folk tale through the Himalayas
"On a trip through northern India, a writer was guided by the age-old epic story of "Rajula Malushahi," which led him to a series of unexpected places."
• Nepal bans solo trekkers throughout the country
Maybe someone in the government read this article by my vagabonding friend 😮.
• Simon Calder at 25: The most impressive travel innovators
"The Independent's travel correspondent, Simon Calder, looks back at a quarter century of travel."
• Can't sleep before a big trip? Here's how to get some shut-eye.
"When faced with uncertainties of travel day, our primal 'fight or flight' kicks in."
I have terrible sleep before an early flight, and basically no sleep on long-haul flights.
• Will the Instagram Vs. Reality trend affect tourism in Bali?
• NOMADPro Canter: The ultimate remote work vehicle
"Mitsubishi Fuso Truck and Bus Corporation (MFTBC) has unveiled the 'NOMADPro Canter', a concept vehicle that supports a new remote work lifestyle while promoting a deep connection to the outside world."
• Ten annoying things about hotel bathrooms
• Can ChatGPT plan your vacation? Here's what to know about A.I. and travel.
"Powerful new artificial-intelligence software is already shaking up the travel industry, but it has a long way to go until it can plan a seamless trip. For now."
🚆
Train travel
• Why sleeper trains are being revived across Europe
Read this and more European rail articles at Europe Rail News.
• The slowest train journey in India
• Germany's unlimited €49-a-month rail pass to launch on 1 May
I'm tempted by this. I have previously travelled non-stop for a month on a Eurail Pass, so this would be awesome as well. The only "problem" is that Germany has the best bakeries in the world, and I don't have an off-switch for yummy things from bakeries.
✈️ Air travel
• Experience the golden age of jet travel by
"At Los Angeles International Airport, plane spotters gather to watch the sky."
---
The Nomadic Notes Travel Newsletter is a weekly newsletter of the best travel reads and interesting travel news from around the web, and random ramblings by the editor.
- James Clark
Thanks for reading Nomadic Notes Travel Newsletter! Subscribe for free to receive new posts and support my work.