Discover more from Nomadic Notes Travel Newsletter
A weekly travel newsletter featuring the best travel reads and interesting travel news from around the web.
Bangkok train week
Walking across Singapore, train stations turned into hotels, Japan nomad visas, and more travel reads.
Greetings from Phitsanulok. I got the train here from Bangkok, rounding off a train-themed week. After a month in Hua Hin I went back to Bangkok to attend a rail conference.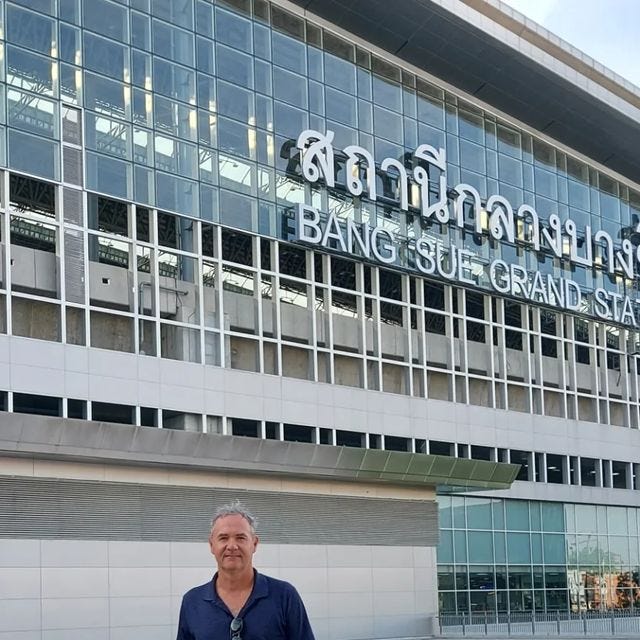 James Clark ✈️ on Instagram: "Bangkok to Phitsanulok"
Hua Hin was great for a month but it does feel like it earns its retirement destination vibe. I feel re-energised coming back to Bangkok and being around opportunities that arise from networking with people here.
Phitsanulok is about halfway to Chiang Mai, so it's a good place to break up an overland trip. There is also a plan to build a light rail here, so I am here wearing my Future Southeast Asia hat.
I have a new article about Bangkok coming up, so that will be out next week. Until then, here is this week's round-up of travel reads.
Travel reads
• What even is Travel Writing, anyway? By
• Aussie man, 27, on holiday in S'pore, runs 53km across island in 8 hours for 'fun'
• 6 incredible train stations turned into hotels
• How 'begpackers' became some of Asia's most disliked travelers
• The case for leaving strangers in your family photos
"Magic Eraser lets you buff the randos from your beloved vacation snaps. But you're losing something valuable in the process."
• 93-year-old woman and grandson complete journey to all 63 US national parks
• 50 tourists share their surprising discoveries from around the world
• Gare du Nord, two parallel worlds under one roof in the heart of Paris
• Want to move to Japan? Government mulls over introducing digital nomad visa
• From Berlin to Brussels, the night train renaissance gathers speed with the new European Sleeper
• The best tips for sleeping in airports
---
The Nomadic Notes Travel Newsletter is a weekly newsletter of the best travel reads, interesting travel news from around the web, and random ramblings by the editor.
- James Clark