International island hopping
Lipe (Thailand) to Langkawi (Malaysia). Shredding your bucket list, not remembering your travels, travel by canal in the UK, and more travel reads.
Greetings from Langkawi. I don't remember much about this island from my previous visit 14 years ago, so it's like visiting anew. I arrived here via ferry from Koh Lipe, which was a new island for me. Lipe always seems to be everyone's favourite island in Thailand, so I was glad to finally get there. I'm going to break my blogging schedule and bump it up the queue, so expect a write-up soon.
My trip to Koh Kipe was timed to mark a personal milestone. I racked up 30 years of sobriety this week (here is my 20-year anniversary post). I usually travel in March, so I thought it would be good to be somewhere where I can have a banana smoothie with my feet in the sand. Mission accomplished. As you can see from the water, there is a reason so many people love Lipe.
Thanks for reading Nomadic Notes Travel Newsletter! Subscribe for free to receive new posts and support my work.
I'm preparing a guide for the islands of Thailand, and the ferry from Koh Lipe to Langkawi was one piece of the puzzle I needed to experience for myself. This is an international border crossing by sea, so it was a nice change of pace from the usual air and land crossings. This will be part of the upcoming Lipe article.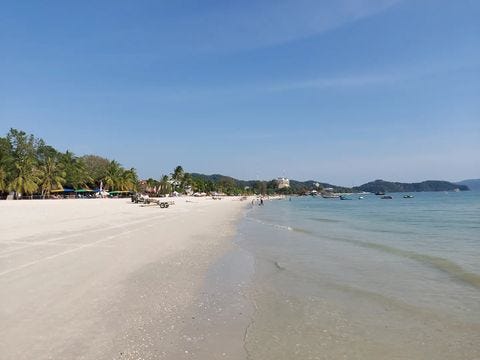 Travel reads
• This week on
I wrote about
the case for a train to Koh Samui
.
• Shred your bucket list: Why 'must-do' travel plans are ruining your vacations (archive link)
"Seeing the Taj Mahal or the Eiffel Tower before you die is a by-the-numbers concept that needs to be retired. Here, six ways to reawaken your true wanderlust."
• Encountering another Jamaica
"A writer explores the island beyond its popular all-inclusive resorts, seeking out guesthouses owned by locals, and experiences beyond the beaches. She finds mountain views, cascading waterfalls and a sense of place."
• Travel under the influencers
"Instead of being a liberating, mind-opening experience, travel in the influencer age has become an exercise in self-conceit."
• Here's your dream holiday and it's free … but there's a catch
"You won't remember any of it. Still interested?" By
• They sold their house to live on a tiny narrow boat full-time (Video)
When I lived in the UK, it blew my mind that you could live and travel on thousands of kilometres of canals. Boatlife, without sharks.
• Extreme travel: It just got harder to see every place in the world
• What it's like to travel around Afghanistan now
• America built an actually good airport
• Half of British television always starts like this.
---
The Nomadic Notes Travel Newsletter is a weekly newsletter of the best travel reads and interesting travel news from around the web, and random ramblings by the editor.
- James Clark
Thanks for reading Nomadic Notes Travel Newsletter! Subscribe for free to receive new posts and support my work.